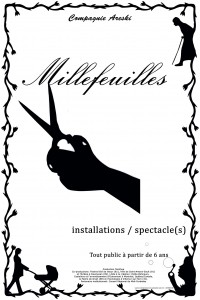 A black and white universe,
between the minimal and the infinity,
from old age to birth.
Millefeuilles is an exhibition-show with paper installations and short performances.
Installations
Fragile silhouettes of paper in search of movement, in a dreamlike environment…
Through different techniques (pop-up mechanisms, kirigami, shadow theater…), these installations invite the Spectator to discover the multiple facets which paper offers.
They represent sketches with images that transform themeselves like the illustrations of pop-up books.
The aim is to connect the universe of animated books with a contemporary form of paper theater.
Performance(s)
Five short performances take place during the exhibition.
Tragicomic stories evoking solitude and the power of the imagination with tenderness.
These stories question the connection between movement and immobility.
The technique of manipulation is based on a succession of fixed images that give the illusion of movement.
Co-production : Festival Eté de Vaour (81), Ville de Saint-Amans-Soult (81) et l'Arlésie à Daumazan
Aide à la création: Petits-Bonheurs, Casteliers et l'arrondissement d'Outremont à Montréal, Québec/Canada, la Mairie de Givet (08) et l'Usinotopie à Villemur-sur-Tarn (31)
Partenaire institutionnel : Conseil Régional de Midi-Pyrénées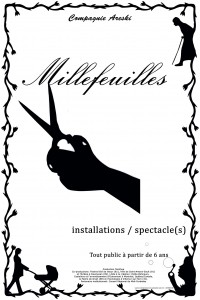 Duration : about 45 minutes
Capacity : 30 to 50 people
Number of performances per day: 3 performances a day maximum
Age: over 6 years old
Assembly and breakout : Depending on the place
1 technician ( sound and light ) required
Teaser Millefeuilles (Video: Éric Vanz de Godoy)
Millefeuilles (Video : Éric Vanz de Godoy)
Millefeuilles (Festival Les Extras à Ramonville)
Reportage exposition Millefeuilles (Villemur-sur-Tarn – 2012)